23 Best Jasmine Tea You Must Buy (2022 Updated Reviews Guide)
With so many types of jasmine tea, what is the best jasmine tea you must buy? Besides personal preferences, the best jasmine tea depends on where the tea is grown, how the leaves and ingredients are picked and how they are harvested and processed.
Some of the links in this post may be affiliate links because I support these products 100%. I may earn a small commission when you click on the links and make a purchase, no extra from you.
What is Jasmine Tea Made of
You want the best jasmine tea, but what exactly is jasmine tea made of? The most popular tea found in a typical Chinese restaurant is jasmine green tea which has a green tea base with jasmine flavoring or extracts added to the tea.
Jasmine tea, the most famous scented tea in China[1]https://en.wikipedia.org/wiki/Jasmine_tea, is one of those herbal teas with a floral accent of jasmine blossoms. It is a type of tea that is an infusion of fresh jasmine flowers with tea leaves from the Camellia Sinensis tea plant such as green tea leaves, white tea, oolong tea, and black tea.
How is The Best Jasmine Tea Made
There are a wide variety of delicious tea blends, but the quality of jasmine tea depends on the harvesting, production, and scenting process. Premium tea has a stronger floral aroma and the quality of the tea is retained because fresh jasmine flowers go through the natural scenting process. Fresh flowers are plucked in early spring at the best time in the day when jasmine buds are still closed.
They are stored properly until late summer when the fragrant jasmine flowers are just starting to blossom. They are then mixed with tea leaves and left overnight. As the flowers open up, the tea leaves absorb the aroma of the jasmine oil and the soothing fragrance of jasmine flowers.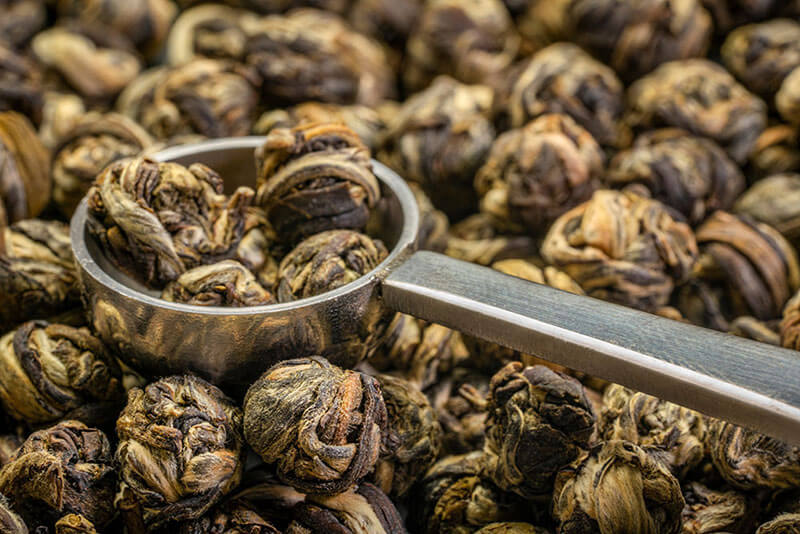 The best and highest quality kind of jasmine tea comes from jasmine pearls. During packaging, each jasmine blossom is wrapped with a green tea leaf, making pearl-like bundles. This bundling enhances the infusion of both flavors such that they are locked in until they are brewed.
Once the hot water of the right temperature is poured into a bunch of pearls, they open into full bloom, releasing the best flavors of the tea. The preparation of jasmine pearls is a labor-intensive process that takes up a lot of time because these pearls are hand-rolled. This explains their expensive pricing compared to other types of jasmine teas.
How to Choose the Best Jasmine Tea
If you never knew there are so many different brands of jasmine tea out there, today, you know you are spoilt for choice.
My recommendations are based on the following criteria:
made with fresh jasmine blossoms
Rolled into jasmine pearls
minimal or no artificial flavor
reasonable pricing
Here are the best jasmine tea products for tea lovers
Brew 50 Cups | 4oz/113g Resealable Kraft Bag | by FGO
20 Count (Pack of 1)
20 Count (Pack of 1)
16-Ounce | Green Tea Loose Leaf | Organically Grown – 450 Gram
16 Ounce Pouch | Loose Leaf Green Tea | 200+ Cups | Packaging May Vary
Loose Leaf 4oz (114g) Tin
Loose Leaf | 3 Ounce Tin
Loose Leaf Green Tea | Jasmine Green Tea with Amazing Aroma (16 oz)
Non-GMO Loose Leaf Green Tea | Hot & Iced Tea | 4 Ounce
Full-Leaf Loose Green Tea, 3.0 oz | Steeps 50 Cups | Caffeinated
Immune & Heart Support | Kosher, Green Tea | Caffeinated | Floral Aroma & Taste | 8.8 oz | Makes 82 Cups
Teabloom Organic Jasmine Pearls Tea is USDA-certified organic and certified kosher, using the finest quality and freshest tea leaves and pure natural ingredients grown in Taimu Mountain (Fujian Province, China). It has a light but rich jasmine flavor with distinctive green tea. It has about 30mg of caffeine which is medium in level, not too much to make you feel jittery, but enough for you to feel awake from the morning till the end of the day. It is sold in beautiful packaging, which is lovely, I do hope you are not paying just for that but for the quality of the tea.
Chinese Loose Leaf Tea 100 gram | 3.5 OZ
4 oz Natural Jasmine Aroma Mellow Taste Detox Gluten Free Vegan
Pyramid Sachets, 1.05 Ounce | Box of 15 Sachets
Loose Leaf Dragon Ball Herbal Flower 100g 3.56oz | Aroma Resealable Pack Pouch
Loose Leaf | Non-GMO | Travel Tin (48 Servings)
Made with Whole Leaves (1 Pack of 50 Tea Bags)
3.5 oz | 100 g | Loose Leaf Green Tea
Loose Leaf Green Tea | Medium Caffeine | Hot & Iced Tea | 5 oz Tin – 50 Cups | Single Origin Premium Jasmine Green Tea from China | 100% Pure Unblended
The Art of Tea Jasmine Pearls tea is an organic Jasmine-scented green tea. It comes from China and it is USDA certified. The 4 oz and 1 LB sizes come in a pouch, giving you an average of 98 cups and 390 cups respectively. If you want the tea to come with the tea tin, do select the Artisan Tea Tin option that is 3 oz in size. That will give you an average of 74 cups of tea.
For Tea Chest Hawaii Jasmine Dragon Phoenix Pearls, you get to select between 3 different sizes: 3 oz / 85 g, 8 oz / 227 g, and 16 oz / 454 g. It is low in caffeine, slightly sweet with floral flavor, soothing, light, and airy.
The California Tea House Organic Jasmine Pearls are made from hand-picked single buds from the 'Fuding Dahao' tea plant variety. You get organic Jasmine Pearls green tea with a 100% satisfaction guarantee.
Best Jasmine Tea Winner
When there are so many Jasmine tea contenders out there, it is hard to point out which is the best jasmine tea. But if I have to do it, which is precisely the point here, the best jasmine tea shouldn't be one that is priced too much based on packaging.
Packaging can look nice or helpful for one's convenience, but the more important decision factor here is the tea itself and the price has to justify the process and treatment the tea has undergone.
In this case, the winner is the Jasmine tea from FGO, Organic Jasmine Pearls Green Tea. It is 100% natural, hand-rolled, USDA Organic certified, 100% from China and Non-GMO Project Verified. The packaging is not the best but good enough. For all these at a reasonable price, it's a clear winner of the best Jasmine tea hands down.