Best Homemade Thai Green Tea Recipe Without Thai Tea Mix (Updated 2022)
This Thai Green Tea Recipe brings you the perfect refreshing drink you order from Thai restaurants. You can drink this hot or cold, with or without milk, but best to order iced Thai green tea after munching over spicy Thai food on a hot summer day! It's an easy recipe from scratch or with Thai tea mixes, great to whip up a quick pick-me-up on every busy day!
Some of the links in this post may be affiliate links because I support these products 100%. I may earn a small commission when you click on the links and make a purchase, no extra from you.
An easy Thai tea recipe is always good to have on hand! Especially at times when you have to give your favorite Thai restaurant a miss because the food is too spicy for your kids. You can quickly satisfy your craving by making your own Thai green tea or commonly known as iced Thai green tea in the comfort of your own home.
If you roam the streets of Thailand, you get to drink traditional authentic Thai milk tea or Cha Yen from a plastic bag made by street vendors. Now you get to do that too with the exact recipe to make it yourself. The difference between Thai green tea vs Thai tea is that Thai green tea is made with green tea as its base and its green in color, while Thai tea is made with black tea and orange in color. Similar to Thai tea, Thai green tea includes spices and sweetness. It's also popular among masala chai fans.
Thai green tea is also known as Cha Keow in Thai. Homemade Cha Keow is the best because you can choose how much sugar you put in your drink. I find the restaurant versions are way too sweet. In fact, you can add or remove anything at any amount you desire and customise your own Thai tea to make it tastier with some health benefits.
Why This Recipe Works for You
Quick and easy brewing process takes only 15 minutes
A different way of brewing from scratch, without making Thai tea from tea mix
Drink it anytime you want without always having to visit your local Thai restaurant
Less sweet, more natural goodness as a healthy yummy drink!
No problem with leftovers as you can keep them in the fridge for up to 7 days
Green Thai Iced Tea Recipe
Making homemade Thai iced green tea is similar to making iced red Thai tea. For the base tea, you can use strong black tea like Assam tea powder with some matcha powder or jasmine green tea.
You may be wondering if you can use Japanese green tea. You can do that but the results and flavor can be different from the real Thai green tea. I've tried it with Japanese green tea with Uji matcha in tea bags. This tea is mild in taste and the spices are overpowering. The color of the drink is also not green, it's slightly brown in color from the spice mixture. When topped off with milk, it turned into a cream color. It tastes more like masala chai than Thai green tea.
In this recipe, I'm using pure Ceylon green leaf tea with natural jasmine petals and flavor jasmine. You can add pandan leaves for its flavor if you want. I'm not adding it so that there's a stronger taste of tea and jasmine.
How to Make Homemade Iced Thai Green Tea From Scratch Without the Tea Mix
Serving size of Homemade Thai Green Tea
Best for 4 tall glasses
Recipe Ingredients: What is Green Thai Tea Made of?
4 oz of special green tea leaves with jasmine flowers or four jasmine green tea bags
32 oz of boiled water that has been cooled to room temperature
3 pieces of star anise
6 whole cloves
3 tablespoons of vanilla essence
4 sticks of cinnamon
1 green smashed cardamom pod
1/4 cup sugar
1 cup fresh milk or whole milk
1/4 cup condensed milk
1/4 cup evaporated milk or coconut milk
1/4-inch of vanilla bean pod (optional strong vanilla taste)
ice (don't have to use crushed ice if you don't have them, it's extra work!)
Thai Green Tea Variations
Leave out the ice if you wish to drink warm or hot Thai green tea.
Leave out the milk if you wish to only drink Thai green tea without milk.
How to Make Iced Thai Green Tea with Raw Ingredients:
Before you start, take note that the amount of green tea leaves or green tea bags is up to you, the more you add, the stronger the tea and caffeine content. Do not add too much or let them steep too long because they can become astringent or taste bitter.
Step 1: Place water, green tea bags, vanilla extract, star anise, cardamom, cinnamon stick, and cloves into a medium-sized pot. Do not boil, but use medium heat until it simmers just below boiling. Reduce the heat to low and allow it to simmer for another 3 to 5 minutes.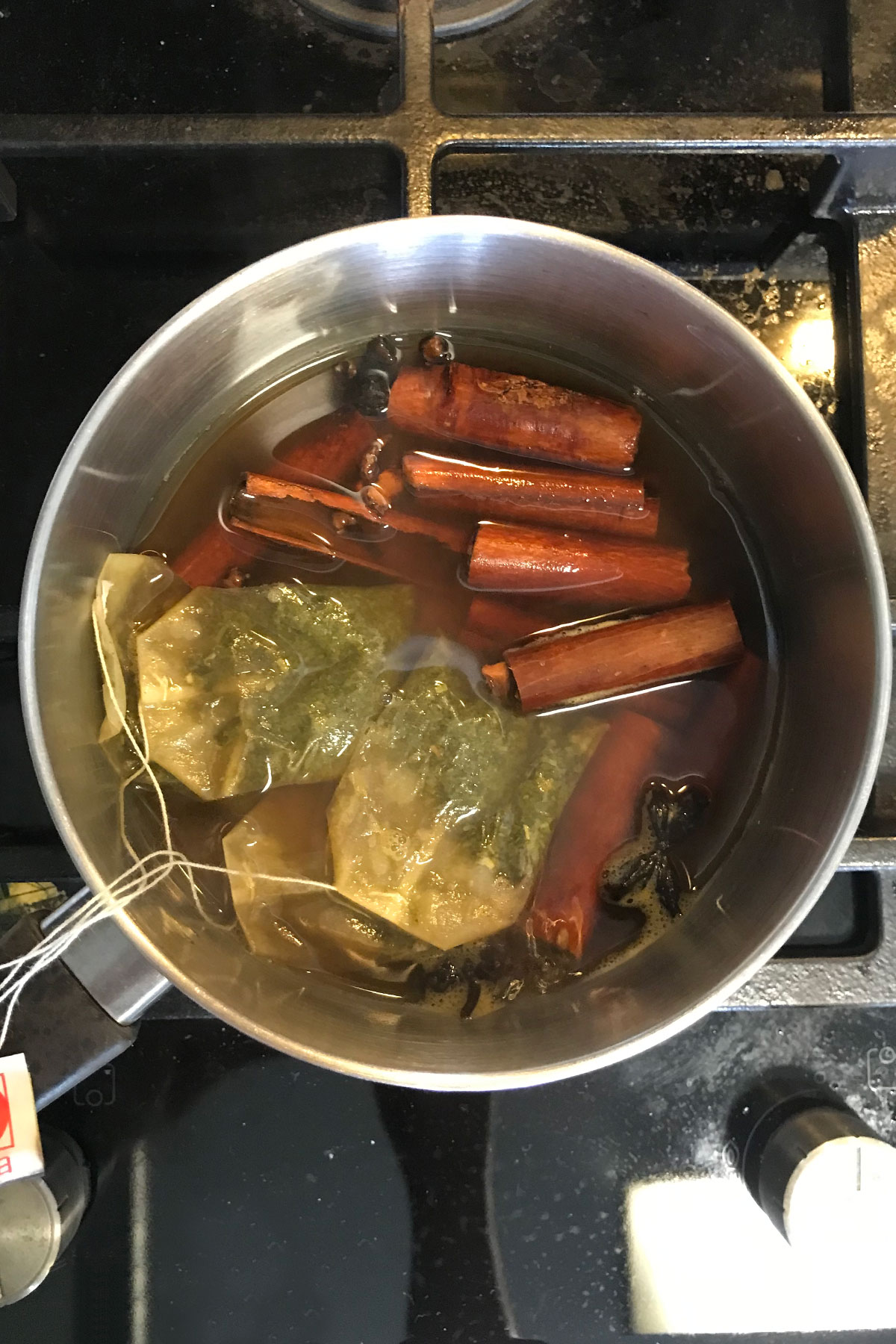 Step 2: Strain the green tea and spices mixture by pouring it over a strainer into a cup. This separates the spices and green tea. Leave the hot tea to cool at room temperature for about 20 minutes.
Step 3: Add 1/4 cup sugar to the green tea and stir
Step 4: Mix or whisk both the sweetened condensed milk, fresh milk, and evaporated milk together in a huge bowl. Make sure they are mixed until smooth.
Step 5: Add ice to 3/4 cup full of green tea
Step 6: The final step is to top it off with the milk mixture, pouring it over the cup of iced green tea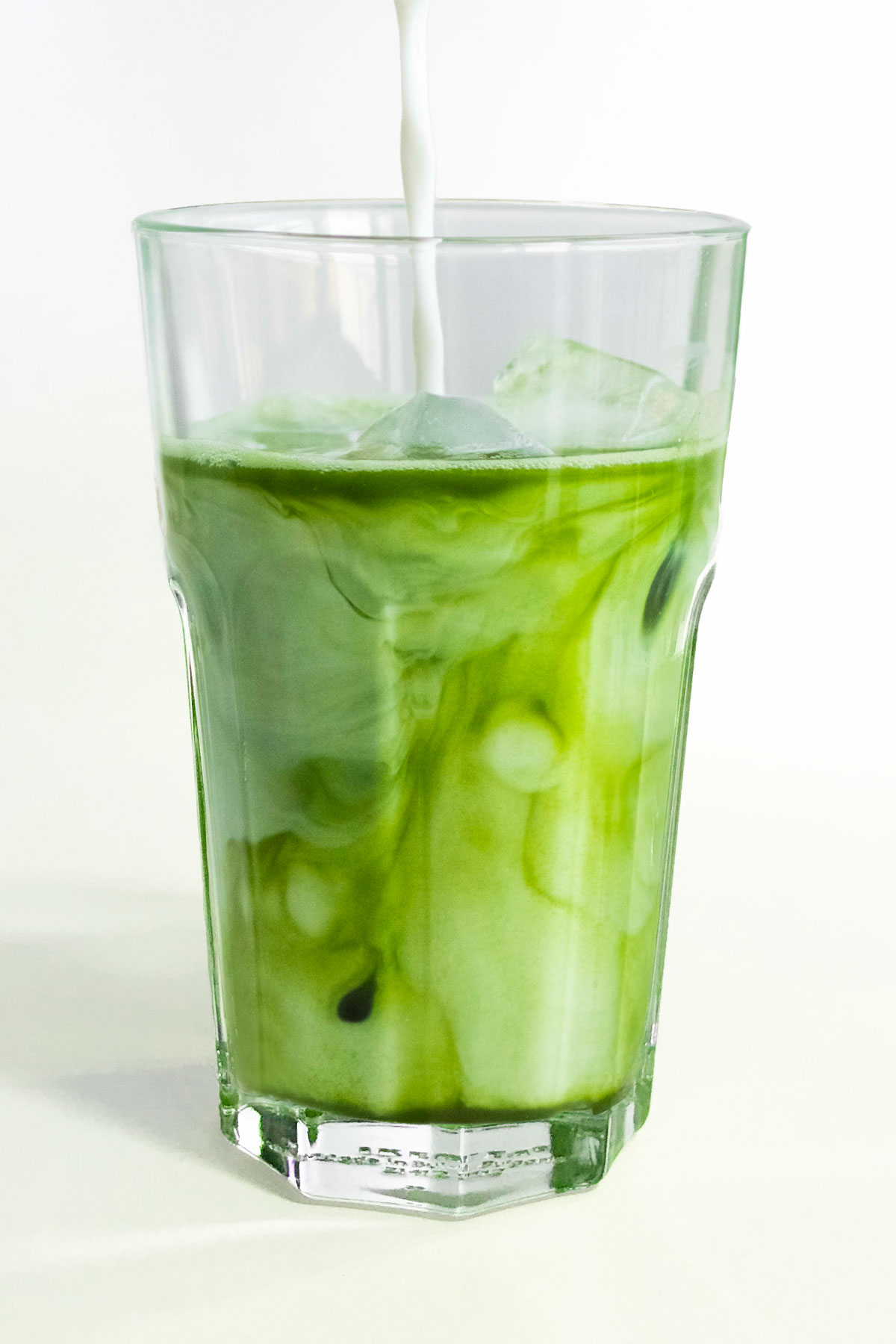 You can add a tablespoon of matcha powder for the bright green color.
Some people add orange blossom water, but I don't add that to keep Thai tea as authentic as possible.
Alternative Methods to Make Thai Green Tea
Using Thai Green Tea Mix
Besides using raw ingredients, you can make iced Thai green tea with a Thai green tea mix by ChatTraMue. It includes 94% ground tea leaves, 5% sugar, vanilla flavor, and food coloring to make the tea bright green in color. The items not yet added which you may wish to add separately are the dairy products like sweetened condensed milk, evaporated milk, fresh or whole milk, and ice.
The ChaTraMue brand, these are Thai words that translate directly to "Tea Hand Brand". It's known as Hand Brand Tea by people, but the brand in English is called "Number One Brand". which is also referred to as the Number One Tea Brand in Thailand since 1945.
The spices and ingredients included are quite rich. I almost got knocked off by the strong aroma and whiff of tea dust and loose leaves when I opened the packet too fast. There are no tea bags and no individual packaging, just open it slowly to keep the contents in the bag.
There are also other brands like Pantai Thai Tea Mix or Wangderm Authentic Thai Iced Tea Flavoured Black Tea. The one you select depends on the taste and ingredients you prefer to drink.
Here's how you make iced Thai green tea with a Thai green tea mix.
Bring 200 ml of water to a boil
Add 2g of ChaTraMue green tea mix to the boiling water. Do not add too much tea, otherwise, the drink may taste bitter
Let it cool and steep for 3-5 minutes. No boiling is required. Similar to how you brew green tea leaves or tea bags. Do not steep for too long or else the drink may taste bitter.
Drain out the tea with a strainer
Add ice to 3/4 cup full of tea mix
Add 1/2 cup of sweetened condensed milk
Add a splash of evaporated milk
Top it off with some matcha powder if you like
Using Instant Thai Green Tea
If you wish to skip all the steps and preparation time to brew tea and add all the fun stuff, then using instant Thai green tea is your answer.
Instant Thai green tea includes green tea powder extract, sugar, whole milk powder, good additives, anti-caking agent, acidification regulators, aspartame, artificial flavor, and food coloring.
Here's how you make iced Thai green tea with instant green Thai tea.
Bring 200 ml of water to a boil
Add 1 packet of instant green tea to the cup of hot water and mix them thoroughly
Add ice to 3/4 cup full of the instant tea
Add a splash of evaporated milk
Top it off with some matcha powder if you like
Is Thai Green Tea Healthy?
Looking at the various ways of making Thai green tea, you can save more money and drink a better, healthier cup of tea by making it yourself at home. You can also control the ingredients and the amount you add, such as adding less sugar or even making it sugar-free. You can drink Thai green tea every day guilt-free! I would say that it can be as healthy as you want it to be.